The Farmington Art Foundation was awarded the "Distinguished Service to the Arts Award for 2013" for outstanding service to the community. Groups, organizations, businesses or individuals receive this award for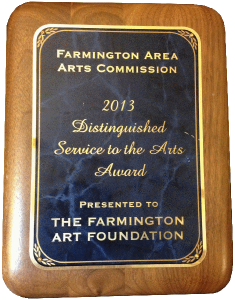 support, promotion, management or teaching of the arts and are honored with a plaque at the Artists Awards Ceremony.  See more info on the News page.
Spring Art Show
Our annual spring art show in April was another wonderful success.  The Award winning art pieces can be seen on our Spring Exhibit 2016 web page.
Summer Art Show
Our summer art show was part of the Founders Festival in downtown Farmington from July 18 – 20, 2016.  Our big yellow and white striped tent was located behind the Masonic Temple at the Northwest corner of Farmington Road and Grand River.  We had approximately 17  displaying their work.  See our Summer Show page.
Speakers
For upcoming 2016-17 meetings and speakers visit our featured Speaker Series page.  The speaker segment of our monthly meetings is open to the public.  Please join us!